DirCmp
What is it?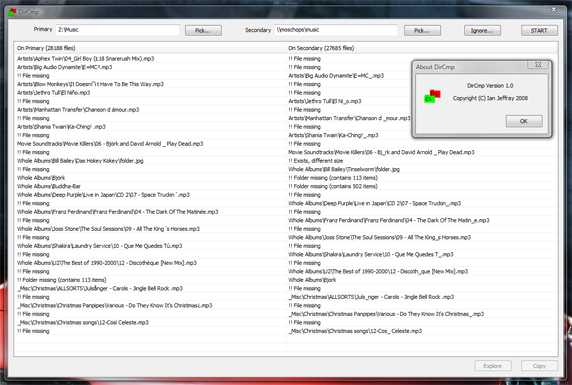 So I couldn't rely on other Windows folder compare programs, or they didn't quite work how I'd liked, so here's my own.
Compares folders on local drives and shares.
Highlights missing files on each side
Highlights missing folders with summary of number of files therein
Shows differences in file sizes
Quickly open Explorer windows on both sides, for a given file's location
Quickly copy missing files
Allow filenames to be ignored (eg sodding 'Thumbs.db')
Standalone .exe - no installer stuff required
Version 1.1 fixes copy operations from secondary to primary.
Downloads
1.1 << Latest
1.0



---
(windows) - (top) - ian@jeffray.co.uk